Giving to Southwest Minnesota State University is more than just making a donation. It's an investment in the University's vision to be recognized throughout Minnesota and beyond for being an inclusive and student-centered university. It's an investment in transforming students' lives in preparation for careers and broader engagement in the world. The impact of every donor gift and volunteer action touches students, faculty and staff, programs and projects, departments and disciplines. We value your investment in our mission and extend our sincere thanks for entrusting us with your support.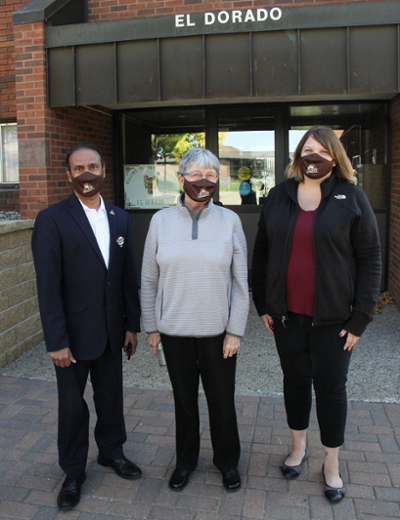 Investing in Students. Investing in Southwest. 
Jean Brobst visited campus Wednesday, Oct. 7 to tour the SMSU Residence Halls. Exciting improvements were recently made to the GW Complex residence hall thanks to the generosity of Jean and her late husband John, who passed on Jan. 19, 2020. Jean was delighted with the results of the renovation, and is shown with President Kumara Jayasuriya and Assistant Director of Residential Life Jessica Bentley. During Jean's visit, Resident Assistant Elizabeth Zoya spoke about how the students are enjoying the updates, which include new landscaping, windows, furniture, cupboards, stoves, paint, lighting and air conditioning in the common areas. GW complex includes Sirius, Titan, Kamasutra and El Dorado. The Brobsts have been long-time friends of SMSU since moving to Marshall in 1971. John was an early member of the Foundation Board of Directors and a managing partner with Brian Hoffman of the Hoffman & Brobst accounting firm. The SMSU Foundation is grateful for the support and generosity of the Brobst family that is making a difference in the daily lives of our on-campus students!